Welcome! We hope you enjoy your visit to the beginning of our 'paper gardens'. So much more to come!
...we're such papersnobs, LOL; guarantee your delight in the look and feel of these cards. Heavy cream stock with a lovely hand, (100% postconsumer waste/acid-free) and seed-embedded embellishments this time around are a medley of wildflowers, guaranteed to grow in any part of the country. In season, of course...
Each card comes with an envelope that we choose to complement the color. If you have another preference, please let us know using the 'comments' box. We have a range of colors available, from tropical to earthtones.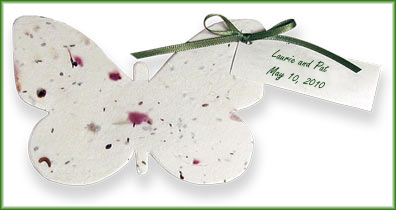 Butterfly Gift Tag
Happy butterfly delivers extra care for your gifts. With or w/o hole-punch to tie with your own ribbons. Or ask us - custom min. 25) (Ribbon not included.)
Comments (0) | Add a Comment